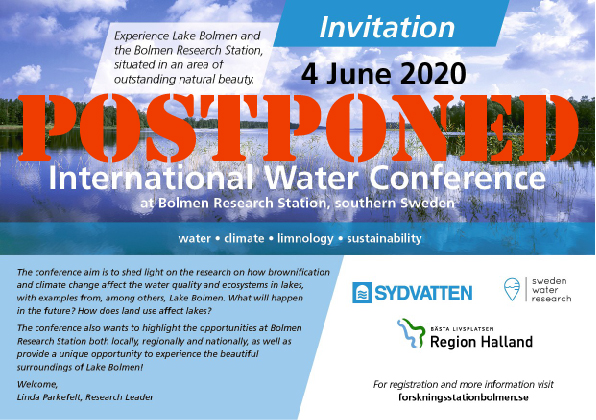 POSTPONED – International Water Conference June 4, 2020
The International Water Conference June 4, 2020 at Bolmen Research Station is postponed due to the prevailing circumstances in the world.
We intend to arrange the conference next year.
It´s our pleasure to announce that the first International Water Conference will be held at the Bolmen Research Station, Tiraholm, Sweden – June 4th, 2020.
The conference aim is to shed light on the research on how brownification and climate change affect the water quality and ecosystems in lakes, with examples from, among others, lake Bolmen. What will happen in the future? How does land use affect lakes?
The conference will also highlight the opportunities at Bolmen Research Station both locally, regionally and nationally, as well as provide a unique opportunity to experience the beautiful surroundings of Lake Bolmen!
Yours sincerely,
Linda Parkefelt, Research Leader, Bolmen Research Station
Program
The preliminary program of the conference June 4 can be found here.
Registration
We are pleased to inform you that the online registration for the International Water Conference at Bolmen Research Station now is open. Registration is open until the 4th of May 2020.
Registration can be made here (in Swedish).
NOTE: International or non-Swedish speaking attendants please contact us at info@forskningsstationbolmen.se for registration.
Fees
Registration fee for the 4th of June is 1500 SEK and includes attendance at all sessions, conference material, breakfast, lunch, Swedish "fika" and supper as well as buss to Tiraholm from Halmstad Central Station and back (see preliminary program).The registration fee does not include accommodation.
Hotel recommendations
The following hotels have rooms reservations for conference participants:
Grand Hotel Halmstad When booking accommodation enter discount code 0306BOLME for a reduced fee, valid until the 30th of April. Note, if using the English-language website discount code cannot be entered, please contact hotel directly, you find contact information here.
Tiraholms Hotel For a 10 % discount between the 3rd and 7th of June enter code WATER, valid until the 30th of April.
For more accommodation options visit Halmstad Tourist Center, Destination Halmstad AB.
A plausible three days venue
In addition to the International Water Conference on the 4th of June, a regional conference arranged by Region Halland will be held on the 5th of June at Tiraholm on the topic of water as a resource for sustainable development (information will be published at the beginning of 2020). Also, the Swedish National Day on the 6th of June will be celebrated at Tiraholm on the topic of water with water-related activities ( program is available here) and the Bolmen Research Station will be open for the public.
Travel to Sweden, the city Halmstad and conference location Tiraholm
The closest international airports to Halmstad, Sweden are:
By train to and from Halmstad, please visit Hallandstrafiken.
By car or taxi from Halmstad to Tiraholm: